Exciting news: At the end of July, I spontaneously started a part-time job with Instacart as an in-store shopper. This means I'm spending several hours every week in our local Publix supermarket together with my iPhone, which displays what groceries our customers would like to have delivered.
I don't do the actual driving and delivering, just whizzing around the aisles with a cart (or trolley as we say in the UK), scanning and packing the items. How exciting is that?
Here's Julia and me together with Rudy, one of our friends who works at The 11th Street Diner. We used to be regulars here – and it feels so good to be able to do "normal" things again
After we had finished that phenomenal Waffle Combo, Rudy told us that Francesca, our waitress, also wanted to be in the picture – so we took another one. I love them both 🙂 We've duly posted both pictures on the 11th Street Diner Facebook Page.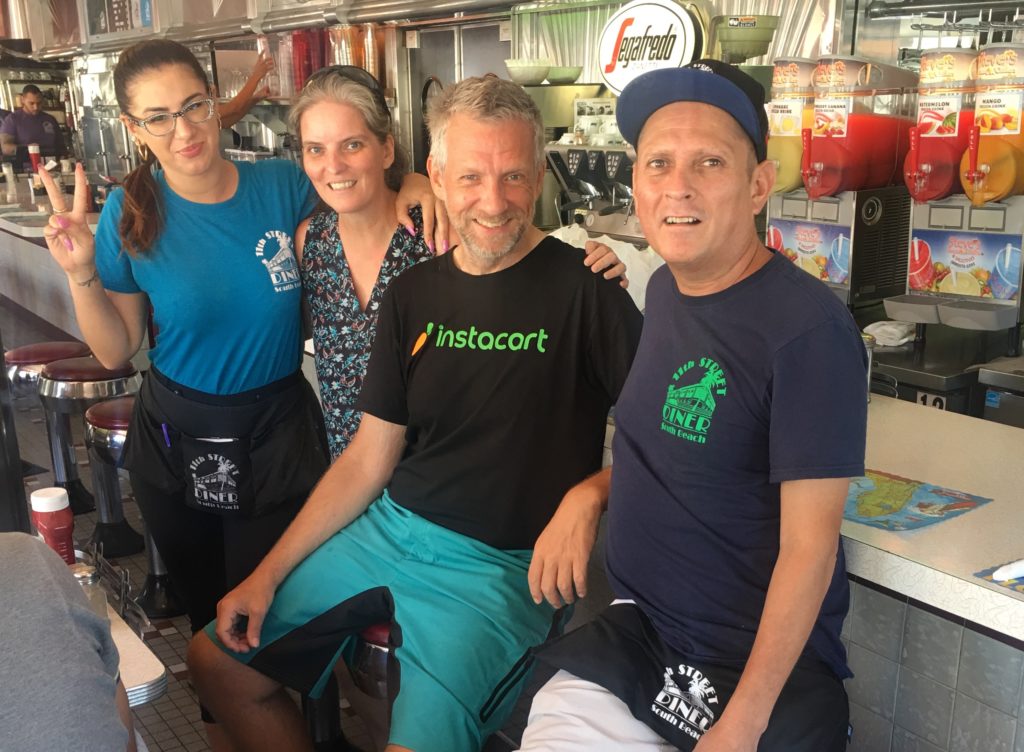 Julia has been working for Instacart since 2016, first as an in-store shopper, then as a Shift Lead, and recently she's been promoted to Site Manager. I've been doing it for about a month now, and I love it. Now we're both working for the San Francisco based start-up, making sure local residents get their groceries delivered.
This job directly supports our local community, it's fun to do too. I always liked grocery shopping and playing with my iPhone, and now I even get paid for it. What's not to like?
Most importantly though, and almost as an added side-effect, this arrangement helps me pay off those medical debts that have amassed on our various credit cards since 2015.
The fascinating bit is both that I got the job in the first place, and that I'm actually fit enough to do this! It's a real testament on how well I've healed.
Grocery shopping is physical and mental work: learning and knowing where each product is hiding in the large store is one thing. The other is to walk around for several hours in a row, walking, bending, lifting, packing, that sort of thing. It's a great workout, but also a nice barometer as to how fit I now am. I walk roughly 10,000 steps in every shift – in addition to my regular exercise routine of cycling to and from Publix on the Bay.
Remember that this time last year, I had just about gotten better. Two surgeries and a bit of recovery time later, and I'm in a place that allows me to do this – mentally as well as physically. How exciting indeed… and it'll certainly make our bank manager happy. 
Speaking of happiness, let me point one thing that I'd like to share with you:
I am happy.
Extremely happy. 
This Instacart part-time arrangement leaves me enough time to pursue all those creative things I'm doing right now (i.e. YouTubing, writing, podcasting, etc). It's all converging into a beautiful life, balanced between paying off medical debts, feeling super fulfilled and ecstatic about what I to, all the while making the world a better place.
Is that lovely, or what? It's an amazing reward for what I've been through.